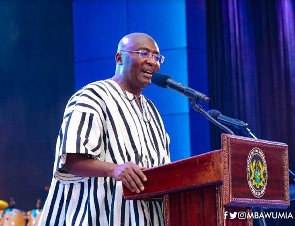 Vice President Dr. Mahamudu Bawumia has stated that the gold-for-oil policy is an innovative way to deal with Ghana's cedi depreciation and increasing fuel prices.
According to him, as part of the top producers of gold in the world, Ghana has not rightly exploited the mineral to its benefit.

This, he noted, will inure to the benefit of the country as a progressive way of solving the country's challenges.

Dr. Bawumia explained that the policy is not one that is taught in schools.

"With this idea, we said, let us do something that the textbooks don't teach you, let us do something that is out of the box and this is why we said gold-for-oil. We quickly looked at this and we negotiated with the suppliers of oil who were very excited and happy to receive gold in payment. Thankfully, yesterday, Monday, Ghana took its first delivery of oil under the gold-for-oil programme," he was quoted by 3news.com.

Speaking at the 74th annual new year school of the University of Ghana on Tuesday, January 17, 2023, he said, "How are we going to change this whole way of doing business as far as our natural resources were concerned? Take the case of gold in Ghana, we have mined gold for over 200 years, and when I looked at the data, I realized that our total reserves of gold in Ghana were just 8.7 tonnes at the end of 2021.
"One of the largest gold mining countries, we are in the top 10 in the world but we have not accumulated gold to build our reserves."

The vice president explained that using gold to purchase oil to sell in cedis will reduce the pressure of having to find dollars to import oil. Dr. Bawumia stated that the first consignment that has been received is being tested to see its effectiveness.

"We looked at the other side of the balance sheet, we export gold and we import oil. The cost of oil import is about 3 billion dollars a year. So we ask the simple question, why don't we, since we have always got pressure in finding US Dollars to buy oil, rather reach an agreement to change our gold for oil and then, sell the oil in Cedis and then, use the Cedis to buy more gold, use that gold to pay for oil, sell the oil in Cedis and then you don't need to look for the scarce foreign exchange to buy oil, which always leads to depreciation on the currency.

"This is the cargo to test the framework to see if everything that has been put in place will work and by the grace of God, it is clear that the framework will work and if that should happen we are going to save a lot of foreign exchange and reduce the pressure on our currency," he said.

SSD/DA