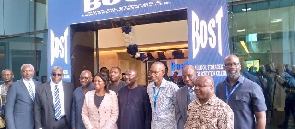 Vice president Dr Mahamudu Bawumia has assured Ghanaians that there is more to come under the much-talked-about gold-for-oil deal
According to him, the policy is only three months old.

'There is more to come this is just the third month… the third month of the proliferation of the policy.

"We have to understand that the prices of fuel will go up or come down but what we expect to see under the gold-for-oil policy is more stability in the pricing of fuel in the country," Dr Bawumia said.

He assured that going forward, Ghanaians will see the results of the policy with less use of the foreign exchange.

Speaking at the commissioning of the new head office of the Bulk Oil Storage and Transportation Company Limited (BOST), in Accra, Dr Bawumia added "I am happy to note that the Gold-for-Oil policy is the first policy of its kind in Ghana since independence to address this type of balance of payment crisis that we face.

"In my humble opinion, this is the most important macroeconomic policy intervention to deal with the exchange rate depreciation, fuel prices, food prices, and inflation nexus that we have had.
"It is possible to buy gold and convert it into payment for oil.

"Some people said it will not work because Ghana does not have enough gold".

Meanwhile, "we have been mining this gold for over 400 years and we keep taking it out," he stressed.

He argued that there are people who are disappointed that the policy is working.

"If you have an impossibility mindset, you can keep to it. With us, [however], all things are possible by the grace of God," he concluded