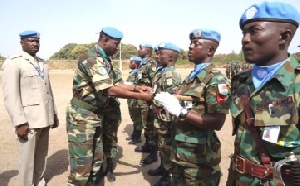 Tue, 20 Nov 2012 Source: UN Information Centre
The Special Representative of the Secretary General (SRSG) and Coordinator of UN Operations in Liberia Karin Landgren has hailed the distinguished contribution of Ghanaian peacekeepers in Liberia to the restoration of peace and stability to that country and the sub-region.
Ms Landgren also acknowledged their exceptional humanitarian interventions, such as free medical services to the local population, donations to vulnerable groups, teaching assistance in educational institutions and the establishment of a technical institute that is teaching technical and vocational skills to many Liberian youths.

"This is an excellent example of making a lasting difference to the lives of the people in the local community," the SRSG told the Ghanaian soldiers.

SRSG Landgren was speaking at a special ceremony in Buchanan, Grand Bassa County to honor 700 Ghanaian soldiers with the United Nations Peacekeeping Medal for their dedicated service to the UN Mission in Liberia (UNMIL).

The recipients of the award have been serving in Grand Bassa, Rivercess and Sinoe counties for the past six months.

UNMIL and the Government of Liberia are working together closely on planning a transition plan that will see the Ghanaian Contingent re-deployed to Lofa County by the end of this year, while UNMIL's civilian and police presence remains in Buchanan.
In Cestos City, Rivercess County, UNMIL is also drawing down its military presence, while maintaining a quick response police capacity in Buchanan to support the Liberia National Police.

The UN envoy said UNMIL's gradual hand-over of security responsibilities to Liberia's own security agencies was a result of Liberia's growing stability and the development of its democratic institutions. She stressed that, "Our guiding principle at all times is that Liberian security must be maintained."

"We look to the Liberian people to be law-abiding citizens and do their part in maintaining law and order. We look to Liberian political leaders to consolidate the country's democratic institutions and strengthen accountability and transparency. We look to civil society and the media for their independence and their engagement," SRSG Landgren stated.

Among the dignitaries present at the ceremony were: Acting Force Commander, Brigadier General John Kwasie; a special delegation from Ghana, led by Rear Admiral Mohammed Tahiru; Ghanaian Ambassador to Liberia, H.E. Kenneth Asare Bosompem; Armed Forces of Liberia Chief of Staff, Major General Suraj Abdurrahman; Superintendent of Grand Bassa County Madam Etwida Cooper and other UNMIL senior military and civilian staff.
Source: UN Information Centre