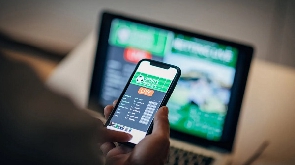 The Deputy Youth Organizer of the National Democratic Congress (NDC), Osman Ayariga, has taken a swipe at the government over its claims that the youth who engage in betting are lazy and may be suffering from addictions.
He said that it's rather the government that was addicted to unspeakable acts of corruption and deceit.

"The argument about addiction is laughable. We have so many addictions in this country as far as the New Patriotic Party (NPP) is concerned. We have an addiction to corruption, we have an addiction to lies, we have an addiction to deception, we have an addiction to stealing, and we even have an addiction to people keeping huge sums of money in their rooms. And these are the kinds of addictions we should be talking about," he was quoted by citinewsroom.com.

Osman opposed the 10% tax vehemently whiles adding that it is unfair and a "very wicked" way of deducting from the wins of persons who bet.

He also lamented the fact that foreign companies enjoy more benefits than Ghanaians.

"This tax is unfair and very wicked because if a foreign company which is not a betting company is allowed to deduct its losses and pay only on the profit and I, the youth who is trying to make ends meet, who is trying to survive, I am not allowed to also deduct my losses, and you only come in to deduct the percentage from just a one-off win, that is a lazy approach.

"If it were that everyone is profiled by the GRA and GRA is able to compute and know what each individual makes as profit and loss and is able to deduct from the profit, that will make sense otherwise this 10 percent deduction from people's winnings is a lazy approach," he said.
SSD/OGB

Watch the latest edition of BizTech and Biz Headlines below: