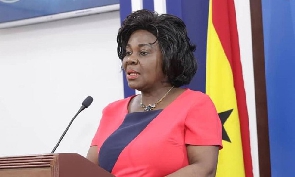 The Minister for Sanitation and Water Resources, Cecilia Abena Dapaah has begun a two-day working visit in the Volta region to inspect and appreciate the level of work on some ongoing projects being undertaken by government in the region.
The tour which started today would see the Minister visiting the Five (5) District Water Supply System located at Adidome in the Central Tongu District and also some other water and sanitation projects at Adaklu, Keta and in the South Tongu Districts.

Speaking at a press briefing held at the Volta Regional Coordinating Council in Ho ahead of the tour, the Minister told journalists that the NPP government in the recent past has cut sod for 8 major water projects at a cost of 1.40 billion dollars which would give water to some 4.5million people.

The Minister believes that these projects is a demonstration of government's commitment to achieving the United Nation's Sustainable Development Goals (6).

She said, "It is very important that we get the perimeters right, sod has been cut for some of the water projects. Last year, we were privileged to have the President cut sod for eight major water projects, totalling 1.40 billion dollars which will give 4.5 million people access to water."
"It's a huge input into the water sector. If I add up what would be in rural water which amounts to about 1.2 million people that would be added, you can see that the government is on course to achieving the SDGs in Water and Sanitation, which is Goal Six (6)," she added.

The Minister further stated that the investment into the water sector would further enhance government's efforts in eradicating all forms of waterborne diseases.

As part of the tour, the Minister would also be visiting novel recycling plants at Akrofu in the Ho Municipality which would collect and treat waste when fully completed.

The project is said to be a collaboration between government and the private sector-led by the Jospong Group of companies.