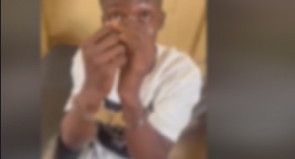 The latest update on the murder case involving a 22-year-old man and his late boss, 35-year-old Princess Afia Ahenkan at her residence at Apaaso, in the Ashanti Region, is that the suspect sold the woman's car for GH¢100,000.
According to a report by the Daily Guide newspaper, John Allister, who is said to have been in employment with the deceased for not more than a few months, sold the Kia Sportage and used part of the money to acquire a Toyota Vitz.

The police have since retrieved the Toyota Vitz from the young man, the report added.

Background:

Princess Afia Ahenkan, a businesswoman in Sokoban, a suburb of Kumasi, was reported murdered on Friday, September 8, 2023, leading to the arrest of the prime suspect, John Allister, who was employed as a house help by the victim's family.

The victim has been identified as the wife of the son of legendary Ghanaian footballer, Reverend Osei Kofi.
Peace FM's Ashanti regional correspondent, Samson Kwame Nyamekye, confirmed the arrest during the Evening News broadcast on September 14, 2023.

Nyamekye reported that John Allister, aged 22, is now in police custody, assisting authorities in their ongoing investigations.

According to reports, John Allister fled the scene of the crime with his madam's car and various items belonging to the deceased.

Nyamekye explained that John also took the deceased's phone and engaged in conversations, posing as the victim and sending messages to friends and close acquaintances.

"The police really struggled before they were able to go to the house and retrieve the deceased, but I can confirm to Peace News that there is good news John Allister has been arrested by the police this afternoon, and he is in police custody, assisting in investigations," Nyamekye stated.
A video circulating on social media shows John Allister in handcuffs, being interrogated by an unidentified individual regarding the whereabouts of the stolen items.

TWI NEWS

In the video, John acknowledges that he has sold everything he took from the victim's residence and offers to take the said individual to the person who purchased the items, as he claims to have that person's contact information.

Sports broadcaster, Dan Kwaku Yeboah, on September 14, 2023, revealed chilling details of the incident, indicating that the woman, known as Efia Ahenkan, alias Princess Efia, was the wife of Reverend Osei Kofi's son who is based in London, United Kingdom.

Per Kwaku Yeboah's narration of events, Princess Efia was allegedly stabbed by her house help whom she recruited barely months ago.
"The family of Reverend Osei Kofi is in deep sorrow now because the wife of his London-based son has been killed. The man wanted his wife to have the freedom to undertake her business activities so recruited a house help through an agency.

"The name of the house help was John Allister and he was paying him through the agency. On Friday, she was having a conversation with her friend when the said friend heard her scream that she has been stabbed. The phone went dead and her number went off so the following day the friend sent a police team to the house in Kumasi," he said.

Dan Kwaku Yeboah went on to paint a picture of the crime scene and the state of the house when the police in the company of the said friend visited the house.

"Upon getting to the house, they realized that the dog in the house had been released and the body of the lady was lying in the garage. The car in the garage had been driven away by the house help," he said.

Click here to start the nomination process for the 2023 GhanaWeb Excellence Awards
Ghana's leading digital news platform, GhanaWeb, in conjunction with the Korle-Bu Teaching Hospital, is embarking on an aggressive campaign which is geared towards ensuring that parliament passes comprehensive legislation to guide organ harvesting, organ donation, and organ transplantation in the country.

Meanwhile, watch as traders at the Tetteh Quarshie Art and Craft Market reflect on their new lives 2 years after decades of their investments were lost to a demolition exercise. They spoke with GhanaWeb TV's Etsey Atisu on #SayItLoud:



AE/OGB