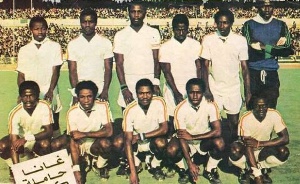 The Member of Parliament for South Dayi constituency, Rockson-Nelson Dafeamekpor has narrated how a club in Peki in the Volta Region inspired the nickname of senior national team of Ghana - The Black Stars.
Contrary to assertions that the Black Stars' name was derived from the Black Star in Ghana's national flag, the MP has shared a different account.

Formed in the 1950s, the national football team represented the Gold Coast [now Ghana] in international football competitions.

When Dr Kwame Nkrumah became Ghana's first president, he wanted to find a nickname for the national team.

However, according to Dafeamekpor, Nkrumah had a friend he used to visit occasionally in the Volta Region and whenever the president came over, they played a football match to honour his visit.

He noted that on one occasion during his visit, Peki Black Stars were made to entertain the president in a football match and that was where the name Ghana Black Stars was derived.
"The name Black Stars was adopted from a football team which was located in Peki. Nkrumah had gone there to visit his friend in the 50s," Dafeamekpor said on TV3.

He added, "When Nkrumah got to Peki, they had Peki Black Stars. It was a team in Avetime so he adopted the name."

"There are historical accounts, the name of the football club. It's a known fact in Peki. It appears that we haven't made the effort to amplify it enough that the Black Stars Nkrumah adopted it from Peki Black Stars.

"So any time he visited, they played community games. Nkrumah visited him [one time] and the name was very fascinating, Peki Black Stars, so he took it and adopted it for the Black Stars," the MP said.