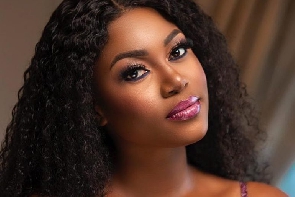 In contrast to other movie industries outside of Ghana, the Ghanaian film industry is said to have been seeing a drop in output for some time now, making it a less serious and vibrant industry.
Regardless, actress cum producer, Yvonne Nelson has said that she is sick and tired of talking about how industry players can help revive the movie industry.

In an interview with 3Music TV, she stated that she was doing her part and hoped it was enough to restore the movie industry to its former splendour.

"I don't blame anyone but I believe you guys (media) talk about what you see. It's obvious the industry is not as vibrant as before and I am sick and tired of talking about this subject. I am tired of it. For me, I am doing my part.

"It works and for me, it's a business and I have the passion. I just cannot see myself not producing anymore. I believe I am going to be around for a long time. The thing is my colleagues and I have to invest," she said.

Yvonne further said that she thinks many people have already given up on the movie industry and that locals need to learn to invest in what is theirs because outsiders won't do it for them.
"We have to invest in the industry, and if we don't, we don't expect outsiders, people who don't even know anything about the business to come and invest. Because we know it and this is what we do.

"So I was expecting to see John Dumelo start directing. I am always bugging Majid to direct you know. It's really just us, and I feel like we've given up too easily, and things are the way they are because of us. We have to sit up and do something about it," she added.


Ghanaian actress and film director @yvonnenelsongh says she is contributing to the development of the country's film industry.#BigConversation #3MusicTV pic.twitter.com/23OMEDmYHn

— 3Music TV (@3musicnetworks) January 24, 2023
ADA/BB