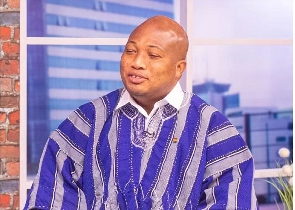 Rev. Kusi Boateng has once more come under attack from North Tongu Member of Parliament, Samuel Okudjeto Ablakwa, who has labeled him "damn coward."
The statement was made in response to a lawsuit threat made by Kusi Boateng, secretary to the board of trustees, against Mr. Ablakwa for a number of claims related to the National Cathedral project.

While speaking on the subject on Radio Gold in Accra, the MP challenged the priest to deal with him and quit issuing threats if he truly believes he is innocent of the accusations made against him so far.

Ablakwa expects the man of God to deny using two official names, different dates of birth, two tax numbers, professions, and addresses, as well as having a dual personality.

"How does he think parliamentary oversight works? We are doing our work and nobody will intimidate us," he said.

Ablakwa stated that he expected the statement to indicate unequivocally that he was lying about his charges, rather than the reverend hiding behind an investigation by the Commission on Human Rights and Administrative Justice (CHRAJ).
"…Deal with the specific issues than this business of trying to hide under CHRAJ, that after CHRAJ I will deal with the MP, what are you waiting for? Deal with me now.

"He should deal with me now, I didn't know he is such a coward, what is he waiting for, deal with me now! Damn, coward. He rather is issuing threats because he knows he will not be arrested," Ablakwa stressed.

Ablakwa has written about 'irregular' payments from the National Cathedral accounts to a business closely linked to the cleric, among other charges.

Additionally, he claims that Kwabena Adu Gyamfi used on certain other official documents by Rev. Kusi Boateng.

The Trustees of the Cathedral have officially denied the claims of irregular payment, stating that the defendant just provided a loan to the board and was afterwards given a complete repayment without interest.