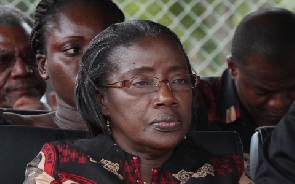 Wife of late former president, Paa Kwesi Amissah-Arthur says that her husband's position as a vice president didn't make any significant lifestyle changes for her.
According to Matilda Amissah-Arthur, she still was engaged in things she was passionate about and did not necessarily quit following her dreams because of the change in her husband's status.

Despite being given some privileges including using outriders, she insisted on living a normal life, doing the things she loves most like writing and library work.

"I didn't see any change. I still went to work, I still did all that I was doing. For example, when he was vice president, I only used motorcade when I was going outside Accra. Inside Accra, I didn't use motorcade," she said.

"Most times I used to drive myself. When I was going to work, I never used an outrider when he was vice president, except I'm going for an official event; that one, protocol demands so they will not even allow me.

"But for example; I'm going to the office, I'm going to visit my mom, why should I use an outrider? I still do the things I'm doing so for me, there's practically been no change," she added.

Mrs. Amissah-Arthur also noted that some things she experienced after her husband became president influenced her to write some of her books including one titled; 'The Wife of the Former Vice President; My Journey'.
According to her, the book was a chronicle of her experiences as the wife of a vice president's wife; a book she started before the demise of her husband.

"While my husband was in office, I realized that there were no books that talk about how the spouse of elected people into office are doing or what they think and so on. So I started thinking of writing something and it was finished when the NDC lost power and that is why it is called; 'The Wife of the Former Vice President; My Journey'.

"That book talks about what I did, not as putting in every former vice president's wife should do but just sharing my story," she added.

You can also watch this episode of People & Places here: