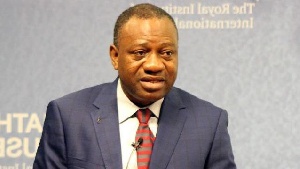 International Relations Expert, Dr. Rashid Pelpuo, has said that the ECOWAS Extraordinary Summit in Accra, should insist that Guinea returns to democratic rule and prescribe a timetable for that to happen.
ECOWAS last week held a virtual Summit, during which it suspended Guinea after the military takeover.

"I expect that ECOWAS insist on a transition into democracy, they will insist on further negotiations with the leader and asking them to do what is necessary and they will insist on a timetable possibly to address the democratic transition."
Dr Pelpuo said happenings in the sub-region reflect a narrow focus of ECOWAS, hence the recurrence of such events.

"There is the case of Guinea where the administration succeeded in extending itself beyond the limited period set up by the Constitution also shows that ECOWAS is unable to control itself from moving into situations where Coups happen so it has to look at leadership, conduct and behavior in democracy before looking at Coup makers," he posited.