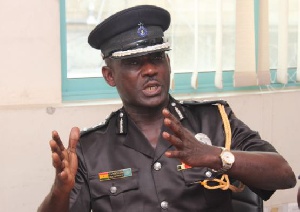 Commissioner of Police (rtd.) George Alex Mensah has been talking about his inactive involvement in politics during his years as a police officer.
He recently announced that he was going to contest in the race to become parliamentary candidate in the Bekwai constituency in the Ashanti Region.

Despite having disclosed that he has historically been a supporter of the UP tradition, which birthed the governing New Patriotic Party (NPP), Mensah said during an appearance before a parliamentary committee of enquiry that he was only a sympathizer of the NPP and not a card bearing member.

Transcript of what he told Parliament in August

NDC MP Eric Opoku: And so when you said you came when we were in power, what exactly were you referring to?

COP Alex Mensah: Mr. Chairman, I was referring to the General Secretary's party.

NDC MP Eric Opoku: That is the NPP, is that correct?

COP Alex Mensah: That is so.
NDC MP Eric Opoku: And then, when you said we, you mean that you were part of the NPP, is that correct?

COP Alex Mensah: I am a sympathizer of the NPP

NDC MP Eric Opoku: So you are not a member, you are a sympathizer, is that what you are telling this committee?

COP Alex Mensah: I have said it already.

U-turn in Asaase Radio interview:

In an interview with Accra-based Asaase Radio, he spoke at length about how he has contributed to the party and about his membership status among others.

Asked about his direct contributions to the NPP in Bekwai, he responded: "A lot of things and I think the party members over there know. We know of people who are never seen campaigning for any political party, when the party wins power, they get appointments, so every one has ways of contributing to a political party.
"But once a public servant like we were public servants, all what you have to do is stay off active politics but that does not mean you cannot do politics," he clarified.

Asked by the interviewer: "Do you have a party ID card?" he responded "Yes, I do."

Relative to how long he has been holding it, the former police chief responded: "I cannot even tell because it has been a long time. Most of these parties don't even collect dues, so all you have to do is to ensure you contribute to the party."

Grounds for perjury charges?

Perjury is simply the giving of false testimony under oath.

At the parliamentary committee hearing, the former police man said he was not a member of the NPP but a sympathizer.

Fast forward to his interview with Asaase Radio, he admits to being a card-bearing member and one of good standing.
Indeed, during the sitting, chairman Samuel Atta Akyea repeatedly cautioned witnesses to be truthful because they could face charges of perjury seeing that the committe had powers of the High Court.

COP Mensah, himself, a lawyer, was reminded of same a number of times and was excused at points when he refused to answer specific question as the chairman ruled that he reserved the right not to self incriminate.

It remains to be seen whether a perjury charge will be triggered by the committee as a whole or by a specific member.

Watch his full interview with Asaase Radio below



SARA

Click here to start the nomination process for the 2023 GhanaWeb Excellence Awards
Ghana's leading digital news platform, GhanaWeb, in conjunction with the Korle-Bu Teaching Hospital, is embarking on an aggressive campaign which is geared towards ensuring that parliament passes comprehensive legislation to guide organ harvesting, organ donation, and organ transplantation in the country.

You can also watch this episode of People & Places on GhanaWeb TV: