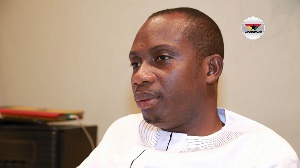 Controversial relationship expert, counselor Lutterodt has lambasted people who doubt his credentials as a marriage counselor.
Speaking in an interview with Sokoohemaa on Rainbow Radio 87.5FM, he revealed that he started his counseling profession 10 years ago when he was still in school. Mr. Lutterodt said he is a certified electrical engineer and a civil engineer who build houses for people.

''When you don't know people, you see them as slaves or illiterates. I am a biomedical clinical technician in the hospital. The big Teaching Hospital of this country, I man their equipment…I have gone through counseling, I've gone to school and I graduated in 2005 and I still go to school every month.''
When asked who a counselor should be in his own definition, he said, ''a counselor is one who counsels people who bring their issues to him. He doesn't offer an advice, and that is why I have never counseled on radio and TV before. I have never done that in my life for the past 10 years.''

According to him, what he does on radio and TV is not counseling before speaking to issues and that can be described as a change agent. Counseling he noted cannot be done on radio and TV because counseling is oath of secrecy.