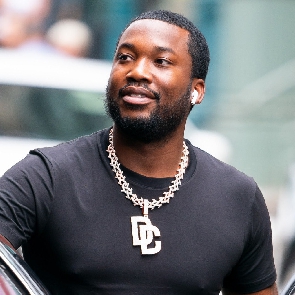 Following criticism from many Ghanaians for filming portions of a music video at the Jubilee House, American rapper Meek Mill has admitted that he won't return to Ghana alone the next time he visits.
In a tweet, the artiste shared, he said he was going to invite others to make the trip to Ghana together.

"Next time I go to Africa I'm taking my hood! They gotta see Ghana!!!!," his tweet of January 20, 2023 read.

In the widely criticised Jubilee House video he has since apologized for, Meek Mill was captured rapping in many locations within the presidency, including the facade, key hallways, the main conference hall (at a spot just behind the public lectern), and in a sitting area.

His action got many netizens enraged about what they saw as disrespect to the presidency while citing ethical and security concerns.
Major Twitter influencers in particular have drawn criticism from the public for permitting such sensitive locations to be recorded for a music video.

Meek Mill later issued an apology to Ghanaians for the video brouhaha that pushed his name into the social media trends.


Next time I go to Africa im taking my hood! They gotta see Ghana!!!!

— MeekMill (@MeekMill) January 20, 2023
ADA/SARA