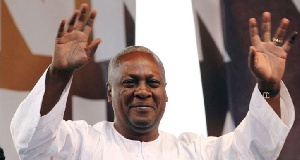 The Chief of Mfrante in the Ejura-Sekyedumase Municipality of the Ashanti Region, Nana Sekyere Bobo III, has added his voice to the controversial 'Do or Die' comment used by ex-Ghana President, Mr. John Dramani Mahama.
According to the chief, there is absolutely nothing wrong with the remarks made by the 2020 Presidential Candidate of the National Democratic Congress (NDC) last week.

Nana Sekyere Bobo III thrown his support behind Mr. Mahama on Sunday, September 12, 2021, when the latter called on him at the start of his two-day tour of the Ashanti Region as part of his nationwide Thank You tour.

"It is just disheartening that the former President has been misconstrued in asking his own supporters to be vigilant at the polls in 2024," he said in Twi.

He continued, "He only said whoever is given any task should be diligent in discharging it and making sure it is completed. There is nothing wrong with what he said."
He asked the former president not to be discouraged by the reaction the statement has generated because he foresees good times for him.

Nana Sekyere Bobo III attributed the spin on the 'Do or die' statement to detractors who only imputes negativity to whatever the three-time NDC leader says or does.

"I am very happy he has ruled out Supreme Court and charged his people to be vigilant so that thieves do not steal the results," the Mfrante chief added.

Former President Mahama visited the Mfrante community to also commiserate with families of NDC supporters who were involved in an accident during the 2020 campaign trail.