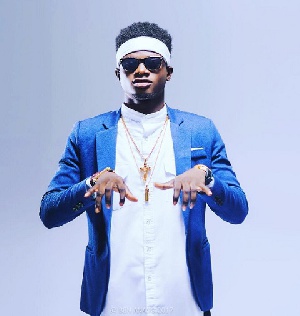 Ghanaian highlife singer, Kuami Eugene has disclosed how desperate he wanted to win the 'Best New Artiste of the Year' award at the 2019 VGMAs.
The Lynx Entertainment signee with the likes of KiDi, King Promise, Kwesi Arthur, Magnom, Kurl Songs and B4bonah were nominated for the 'Best New Artiste of the Year' at the 20th edition of the Vodafone Ghana Music Awards (VGMA).

The category was keenly contested since all the nominees outdid themselves in the year under review.

But Kuami Eugene emerged as the winner, and three years on, the 'Angela' hitmaker, has opened up on why he badly wanted to win that category.

In an interview with Doreen Avio the Eugene stated that the competition was not an easy one adding that it was his first appearance on such a platform.

"It was my first time on the VGMA platform so I mean the whole VGMA effect with Kuami Eugene being on that platform for the first time was in my brains and I had time letting it go. It was a tight position and it wouldn't have been bad if it went to KiDi, King Promise and my other brothers", he said.
According to the 'Rockstar', he wanted to win so he could tell his children how he swept an award that was keenly contested by the likes of KiDi, King Promise and others.

"I really needed that award because I want to be remembered that in our year, I mean I want to tell my boys I beat KiDi and King Promise. It was a tight position and two days before the award, I had a dream that I didn't take the award. I woke up and I didn't feel good at all. I had to pray against all the boys. I told my mum the boys are trying to take the award from me", he asserted.

Watch the video below:


ED/EB