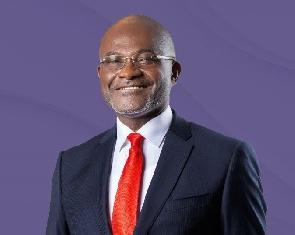 Assin Central Member of Parliament, Kennedy Agyapong, has revealed plans to boost tourism in the country if he is elected president after the 2024 elections.
He outlined his tourism plans in an interview with cross section of journalists during his recent tour of the Central Region where his constituency is located.

Talking about potential of tourism

The Ken City Media owner addressed how he will tackle the perennial issue of dealing with the pollution of the Odaw river located in Accra.

The river canal which connects to the sea has become a major headache when it rains heavily, triggering flooding in the center of the city.

Agyapong lamented that whiles other places in the world benefit from the sea, Ghana is yet to fully tap into that area. He cited Dubai, South Africa's Cape Town, Brazil's Rio de Janeiro, Bahamas, Antigua, Trinidad and Tobago, as places making money from the sea.
Dealing with the Odaw River the Trump way

On the matter of the Odaw, he said: "Look at the Odaw River, the amount of dirt seeping into the sea, I will be like Donald Trump, I will build a long wall on both sides, so that nobody from his home will throw refuse into the Odaw which will end up in the sea.

"We will prevent it and clean the whole Odaw River and put boats on it, so that people will ride from Circle all the way to the sea, Jamestown," he stressed.

He also spoke about plans for other tourist sites like Cape Coast and Elmina Castles.

Exit Parliament, presidential plans
Agyapong has through his campaign for the flagbearership of the New Patriotic Party (NPP) stressed that tourism and mechanized agriculture are the two main levers he will leverage to transform the economy.

He has been MP for Assin Central for over 20 years and has stated that he will not be seeking reelection.

His presidential ambition is barely a year old but his candidature is deemed to be one of the most popular along with that of Vice President Mahamudu Bawumia and former Trade and Industry Minister Alan Kyerematen.

SARA/DO