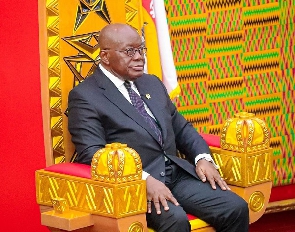 Lawuratu Musa-Saaka, the deputy executive secretary of the Postal and Courier Services Regulatory Commission (PCSRC), has stated that she would choose President Nana Addo Dankwa Akufo-Addo as the leader of a United States of Africa.
Speaking in an interview on TV3's 'The Big Issue' programme, Musa-Saaka described Akufo-Addo as a visionary leader who will implement policies that will benefit generations of Africans.

She added that currently, Ghanaians might not be seeing the effects of the policies of the president but in the near future, they will.

Asked whom she will pick as the president of a united African, Saaka said, "… the President of the Republic of Ghana".

"For me, it is his vision of seeing to it that the generation coming after us have the foundation that will make them comfortable enough to be in the world and do great things.

"If you piece his policies together it is a whole story that we may not see what the benefits are today but in years to come," she added.
Meanwhile, Africa celebrates AU Day today, May 25, 2025, to mark the 60th anniversary of the Organisation of African Unity (OAU) and its successor, the African Union (AU).

The OAU was formed as a manifestation of the pan-African vision for an Africa that was united, free and in control of its own destiny and this was solemnised in the OAU Charter which was adopted on May 25, 1963.

You can also watch the latest episode of People & Places:






IB/DO