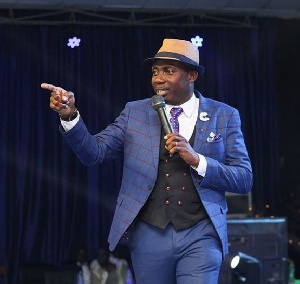 Controversial Ghanaian Counsellor, George Lutterodt has urged women who find themselves in situations where men always want to have premarital sex with them, to ensure that they acquire something valuable out of it.
Mr Lutterodt, who was speaking to Pastor Azigiza Jr. on the Gospel Breakfast Show on Number One 105.3FM on Monday, 14 January 2019, made the comment as a solution to a problem faced by a young lady who complained that her man wants to have sex with her before they marry.

The counsellor stated: "People want to have sexual intercourse before you get married, they have a reason for it. I hear people saying when you have sex before marriage, the trust is broken; it's a lie. I'm speaking to you as a professional. It's a lie because you don't need trust in a marriage, you need belief".

"People say when you sleep with another woman's husband, some other woman will sleep with your husband. People are sleeping with the husbands of women who have never slept with anyone's husband before.

"The law of Karma has never worked when it comes to sexuality and will never work. Let's stop this gimmick. We should teach people to understand what sexual intercourse is before marriage, so people will make an informed decision, then we can determine whether it's good or bad.
"This guy who wants to sleep with the girl before marriage, because he has used the mentality for testing, if the girl is willingly ready to practice prostitution, she should go ahead and make money out of it", Mr Lutterodt said.

He continued: "You're practising prostitution, you don't make babies. If the guy wants to test it, put some value on it so that we know you have practised prostitution, which is the oldest profession in the world."

Mr Lutterodt also likened marriage to a high-risk investment and explained that if one goes into it and it doesn't work out, they can always opt out but ensure that if they want to be tested, and the testing doesn't go well, then at least they should make money out of it.

"Girl, if you want to test, you can go ahead but make sure the testing is of value to you, in case after testing he wants to drop it. If you think that you have the right and you're a woman who is a second-hand car and do not deserve to be treated like a brand new car from a garage but you have to be tested because you yourself you don't have value for yourself, then go ahead and test but make money out of it."