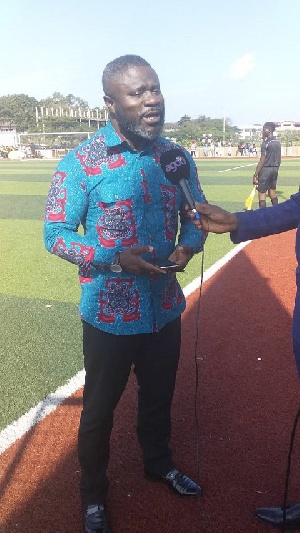 Tue, 28 Aug 2018 Source: Michael Ofosu-Afriyie
The Board Chairman of the National Sports Authority (NSA), Hon Kwadwo Baah Agyemang says the potential in Ghana's Junior Featherweight champion, Isaac Dogboe when fully nurtured will make him a greater boxer than the legendary Azumah Nelson.
Hon Baah believes the flair, strength and discipline the Ghanaian world champion possesses makes his kind rare in the boxing arena.

The speed at which the Ghanaian boxes, the NSA Chair noted makes him a difficult customer to contend with in his weight class.

Speaking to the Ghanaian Observer Newspaper last Monday in Accra, Hon Agyemang urged the public to support the exciting Ghanaian boxer to reach his fullest potential.

''I am convinced that with the right kind of focus, training and attitude Isaac Dogboe can surpass the exploits that was seen in the legendary Azumah Nelson'', Hon Agyemang posited.

Enthusiasm

Recalling the fight from memory, Hon Baah Agyemang described the conduct of Isaac Dogboe in his recent fight as stupendous.
According to him, the victory of Dogboe over his Japanese contender, Hidenori Otake proves his sense of discipline, focus and determination.

The professional display coupled with the flair in the ring last Saturday, the NSA Chair noted attests to the potential in the Ghanaian world champion.

Hon Baah believes with the right kind of training, discipline and consistent performance the Ghanaian boxer will surpass expectations Ghanaians have in him.

''I have no doubts that Dogboe will excel in this sport because apart from passion and determination the boxer possesses the right flair and attitude to do exploits in the ring'', the NSA Board Chair intimated.



Support
Hon Baah Agyemang rallied support from the public especially corporate Ghana to ensure the Ghanaian boxer is motivated enough to continue his exploits in the boxing arena.

The NSA Chair believes the kind of investments the country make in Isaac Dogboe will largely determine how far the boxer goes with his talent.

Boxing, the veteran sports administrator intimated requires great investments, adding the art is a capital-intensive sport.

The Ghanaian government, Hon Agyemang noted will do its part but needed the support of all in the country to ensure the boxer succeeds in his conquest of the world.


Source: Michael Ofosu-Afriyie