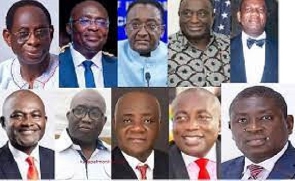 A leading member of the New Patriotic Party, Kwame Pianim has urged the elders of his party to support all the 10 presidential aspirants seeking to lead the country in 2024.
The Ghanaian economist stated that the 10 flagbearer hopefuls of the NPP have the necessary qualities needed to man the affairs of the nation and turn its fortunes around.

Kwame Pianim explained that it is not easy to sacrifice oneself to become a flagbearer of a party, hence the need to show equal support for those who have stepped forward.

"I hope the founding members of the party and all the elders will support all the 10 people who are offering themselves as flagbearers. I was there to encourage Kwabena Agyei Agyepong, just like I'm encouraging all the others to come out and sacrifice to lead the nation.

"It's not easy to be a flagbearer, these young people will go round the country and spread the message. They are the ones who are going to energise the people at the party base. Hopefully, to give them confidence not to lose hope in the political system. It's the only thing we have, to go and fight and preserve the democratic dispensation, free press, civil liberties that we want at a hard cost to a lot of people," he said on Eyewitness News on Citi FM.

Meanwhile, the NPP has cleared all of its 10 aspiring presidential candidates to prepare for the Super Delegates Congress slated for August 2023.
NPP delegates will vote in that congress to reduce the number of presidential aspirants from 10 to 5.

This will be followed by polls in November 2023 where the substantive presidential candidate for the 2024 general elections will be decided.

ABJ/OGB

You can also watch the latest episode of The Lowdown:




In the meantime, watch the latest episode of #SayItLoud on GhanaWeb TV with Etsey Atisu below: