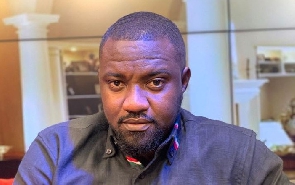 Ghanaian actor and politician, John Dumelo, has warned about the dangers of illegal small-scale mining, known as galamsey, to Ghana's economy and environment.
In a post he shared on Twitter, he expressed concern that if the galamsey menace is not tackled urgently, Ghana risks losing its position as the world's second-largest producer of cocoa.

John also highlighted the environmental impact of illegal mining, warning that it could lead to the total destruction of farmlands and the contamination of water sources.

He further emphasised that the use of harmful chemicals such as mercury in the mining process poses a significant risk to the health of people living in mining communities. The long-term environmental damage could also be irreversible.

"If we don't tackle this galamsey menace, we will lose our spot as the world's second producer of cocoa. Our farmlands will be totally wiped out, and we will start importing food. The few farmlands left will be SOAKED in chemicals. We will start importing drinking water," John said.
Cocoa is Ghana's most important cash crop and a significant contributor to the country's economy, providing employment for over 800,000 people, many of whom are small-scale farmers.


If we don't tackle this galamsey menace We will lose our spot as worlds 2nd producer of cocoa.Our farm lands will be totally wiped out and we will start importing food.The few farm lands left will be SOAKED chemicals.We will start importing drinking water.

— Farmer John (@johndumelo) April 26, 2023
ADA/BB