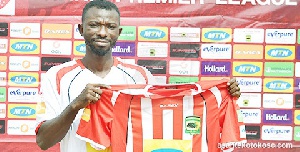 Veteran Asante Kotoko midfielder, Jordan Opoku has revealed the top-secret behind his age-defying career.
He says he is still playing top-level football at thirty-one because he takes very good care of himself. Most importantly, the nimble-footed offensive midfielder, who survived the current shakeup in the team, much to the surprise of some fans and pundits, who thought that he was old and done, said he is backed by nature to perform.

Jordan was emphatic that, he has not altered his age.He marked his third return to Kotoko in 2018 having previously joined the club in 2006 and left in 2011 ahead of his second stint between 2013 and 2015. At age 31, the creative midfielder possesses dribbling skills and creativity that earn him loads of admirers.

He is still influential in matches as he was during his two previous stints. The highly religious Opoku, put his run down to the blessings from God as he took me through the reasons, he has been active up to this point.

"Everything is about discipline, but the most important of them all is God, the creator of heaven and earth," Jordan told Kotoko Express.
"Don't believe anything anyone says. Just believe and listen to the directions of the God that you serve and have inside you. This is what has sustained me," he added.

"No, not at all," Jordan Opoku replied when asked if he was worried hearing people describe him as old and finished. "It doesn't, because people must know themselves and understand their body mechanism. One must know what is good for him and otherwise, and do the things that are good for him and shun those that are not.

"If you know these, then you will always have the strength to move forward. But if you don't, then you will always do things anyhow, hurt your career and blame others for it. In Ghana, people always talk about age, there is no player in Ghana that plays with his real age apart from me.

"People shouldn't be surprised that I am still playing. I am playing with my real age. I have not deducted even a single year from my age. And I can play one or two years of active football. Everything is about your mind-set, and you ought to have a good heart for people, be disciplined and put your trust in God," he ended.