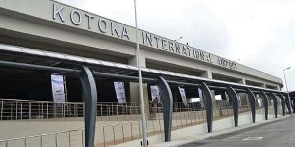 The Ghana Airports Company says investigations have commenced into the birdstrike incident which prevented a KLM flight from flying at the Kotoka International Airport Friday evening.
The incident led to the cancellation of the flight and passengers disembarked and lodged in hotels in Accra.

A statement by the KIA said rescue teams at the airport immediately sprung into action and ensured passengers were safe.

A bird strike sometimes called birdstrike, bird ingestion (for an engine), bird hit, or bird aircraft strike hazard (BASH)—is a collision between an airborne animal (usually a bird or bat) and a moving vehicle, usually an aircraft. The term is also used for bird deaths resulting from collisions with structures such as power lines, towers and wind turbines (see Bird–skyscraper collisions and Towerkill).
A significant threat to flight safety, bird strikes have caused a number of accidents with human casualties. There are over 13,000 bird strikes annually in the US alone.[4] However, the number of major accidents involving civil aircraft is quite low and it has been estimated that there is only about 1 accident resulting in human death in one billion (109) flying hours. The majority of bird strikes (65%) cause little damage to the aircraft; however, the collision is usually fatal to the bird(s) involved.

Read the statement from Kotoka Internation Airport below