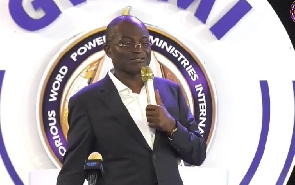 Kennedy Agyapong, a flagbearer hopeful of the New Patriotic Party (NPP) on Sunday, January 22, 2023 worshipped with believers at the Glorious Word Power Ministry International, a Christian denomination founded and led by Reverend Isaac Owusu Bempah.
Kennedy Agyapong who was given the opportunity to share a sermon with the congregants built his preaching on the Bible's position on how fake prophets will abound in the end times.

The Assin Central lawmaker referenced a 2019 campaign he embarked against some Christians leaders he believed to be charlatans who were parading as prophets.

Kennedy Agyapong said that some Christians misconstrued his crusade as one against the Christian faith explaining that he was doing what a good Christian ought to do which is expose people whose actions bring shame to the faith.

He stated emphatically that he believes in the Bible and is a devout Christian but will not sit unconcerned for some persons to fleece people in the name of Christianity.

"The topic I intend to teach is the same verse Reverend Owusu Bempah chose. In 2019, I started a crusade to expose pastors and prophets who are fake. Some of the affected persons were preaching that I was anti-Christ so when I went to certain churches, the pastors told me I was anti-Christ.

"The topic by Reverend Owusu Bempah shows you what I was trying to do. My first verse is 1st Kings 19:24-40 and it talks about Elijah and the Prophets of Baal. We are in the end times and that is exactly what we are experiencing.
"We have good prophets and bad ones. Just as the disciples asked Jesus to show them how to pray. We should ask Reverend Owusu Bempah how we can detect the good prophets. If he had lied, I would have exposed him but his topic aligns with mine. He has shown the difference between genuine prophets and bad ones," he said.

Kennedy Agyapong's visit to the Glorious Word Power Ministry International follows a similar visit to the Parliament House Chapel weeks back.

On December 31, 2022 Kennedy Agyapong visited the church owned by Prophet Amoako Atta who is on record to have prophesied that the Assin Central MP will one day run the affairs of this country.

Kennedy Agyapong is the second high-profile member of the NPP to have visited Reverend Owusu Bempah's church after Vice President Mahamudu Bawumia on December 25, 2022.