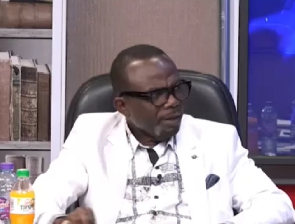 Kwaku Duah, the independent candidate in the recently held Kumawu by-election, has alleged that he was offered a juicy deal by the New Patriotic Party (NPP) to coerce him to withdraw from the race.
According to him, the party approached him with an offer to cover all the expenses he had incurred during the 2020 general elections and the 2023 by-election if he agreed to withdraw.

Speaking in a panel discussion on UTV's Critical Issues on June 10, 2023, Kwaku Duah asserted that he firmly rejected the offer, expressing his commitment to serving his constituency and securing the necessary development they deserve.

He emphasized that he refused to be swayed by financial enticements and stood by his principles.

"If my people didn't understand me today, maybe tomorrow they might understand why Kwaku didn't take any bribe to withdraw from the race.

"…yes, they came, they said I should withdraw from the race and they will pay all my debt in 2020, and the current ones, they will settle me so I should withdraw from the race. So, I asked them why they wanted me to withdraw. If you haven't sent anyone, can you tell the person to resign or withdraw?
"I am an independent candidate, and it is not like I'm an NPP member that you will say that one person should be withdrawn to prevent vote spoilage but I am contesting with you, and the same person I am contesting with is telling me to withdraw, why?

"Why should I withdraw? I stood for my constituency and my country, I posed the question that this is a party and this is my country, whom should I stand for, whom should I turn my back on ? For me, I will stand for my country in our difficult times and fight for the needed developments that we deserve," he said.

Kwaku Duah further alleged that the election was marred by vote-buying orchestrated by the NPP, which he believes undermined the democratic process of the country.

He claimed that various individuals, including queen mothers, chiefs, teachers, headmasters, hairdressers, tailors, and pastors, were approached and received different amounts of money in the days leading up to the election.

"What happened wasn't good and it never helped democracy, and everybody who was there and saw what happened knows that what happened wasn't the best. All those that they called two to three days before the elections, including queen mothers, chiefs, teachers, headmasters, hairdressers, tailors, and pastors, received varying amounts of money."
Ernest Yaw Anim, the NPP parliamentary candidate for the just-ended by-election in Kumawu, emerged as the winner. He received 15,264 votes, representing 70.91% of the valid votes. Kwasi Amankwaa, who ran on the ticket of the NDC, received 3,723 votes, representing 17.29%.

Kwaku Duah, an independent candidate, secured 2,478 votes, representing 11.51%, while the other independent candidate Kwaku Dua II secured 62 votes representing 0.29%



You can also watch the latest episode of People & Places here:




Watch the latest episode of The Lowdown below:






AM/DO