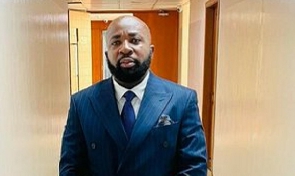 Host of Dwaboase on Power FM and TV XYZ, Prince Kwame Minkah has descended heavily on a presidential staffer, Charles Nii Teiko Tagoe for attacking a journalist over the arrest of former Sanitation Minister Cecilia Dapaah.
Cecilia Dapaah is under investigation by the Special Prosecutor for stashing huge sums of monies in her room.

She was arrested after reports came out that her domestic workers had stolen about $1 million and other valuables.

It is emerging that officials from the Office of the Special Prosecutor who searched her two residences discovered huge sums of monies stored in the former minister's home.

Reacting to the report by TV3, Teiko Tagoe who has been tagged as a 'social media land guard' attacked the media house for reporting what they gathered from Cecilia Dapaah's home.
But Kwame Minkah believes Teiko Tagoe's comment was needless and backward, stressing that the era where journalists were gagged harshly by elements within the corridors of power is far gone.

Watch Kwame's Tonton Sansan as he takes on Teiko Tagoe.