Kyebihene challenges Prof Frimpong-Boateng over claims of galamsey activities near the president's residence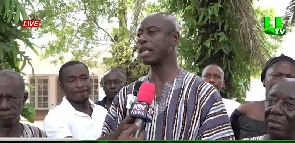 The Chief of Kyebi, Osaberima Marfo Kwabrane has challenged Prof. Kwabena Frimpong-Boateng to provide evidence to back his claims that the president, Nana Addo Dankwa Akufo-Addo's residence in Kyebi, has hosted activities of illegal mining.
He said these while speaking to journalists who had been bussed to the president's residence in Kyebi over claims made by the former chairman of the Inter-Ministerial Committee on Illegal Mining (IMCIM), Prof Frimpong-Boateng.

According to him, the traditional authority is not happy with the former minister's allegations against the president to tarnish his image.

"He should come and show you where they were doing that galamsey and prove to the whole world.

"We the Kyebi and the entire traditional authority are very uncomfortable. It's unpresentable, very bad that the man who has struggled for almost 45 years to build his name and now as he is about to leave the presidency, they're trying to destroy him. And it goes against the throne," he said.

By this, the Osaberima Marfo Kwabrane, called on Prof Frimpong-Boateng to come and direct them [the Kyebi Traditional Council] together with journalists to the place where he claims galamsey has happened.

"He (Prof. Frimpong-Boateng) should come here and he will come and see the whole thing. We need Prof. Frimpong himself to come here and direct you people, all the journalists that this is the place Akufo-Addo was doing galamsey. Then he proves to us. Then you close our statement that all that we are saying is wrong. So, we wish that that man will come here and make a fair statement to the whole world, he added.
Background:

Former environment minister, Prof. Kwabena Frimpong-Boateng wrote in a report submitted to the presidency that illegal small-scale mining (galamsey) had ravaged parts of the Eastern Region affecting the president's private residence in his village.

The 2021 report by the then chairman of the Inter-Ministerial Committee on Illegal Mining (IMCIM) listed a number of top government and party officials complicit in galamsey activities or those alleged to have frustrated the work of the committee.

The report alleged that a local youth organizer of the governing New Patriotic Party (NPP) had engaged in galamsey near the president's house till it affected a garden in the residence.

Prof. Frimpong-Boateng added that he dispatched a team that verified the incident and without telling the President Nana Addo Dankwa Akufo-Addo went ahead to reclaim the land and vegetate the area.

NW/WA