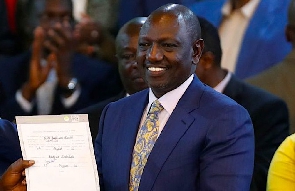 Kenyan President William Ruto has stated that the laws of the country will apply in the matter of same-sex relations.
He stressed that homosexuality and issues around it was, however, not a 'real issue' for ordinary Kenyans as compared to issues of unemployment and hunger.

"We have Kenyan law, we have the Kenyan Constitution, we have our tradition, we have our customs, we will continue to respect other people's custom as they respect our custom and our traditions," he told Christiane Amanpour of CNN, Wednesday, September 7.

CNN played a video of outgoing President Uhuru Kenyatta dismissing same-sex subject years back as a non-issue to Kenyans, following which Amanpour asked Ruto his views on ame.

"On that subject, President Kenyatta was spot on, we do not want to create a mountain out of a molehill. This is not a big issue for the people of Kenya. When it becomes a big issue, the people of Kenya will make a choice," he added.

He said the five million unemployed and four million hungry Kenyans were the priority of his government.
Homosexuality is largely illegal across most parts of the continent with people engaging in it liable to jail terms. Kenya has a strong LGBTQ+ community that have often protested to highlight their plight.

Ruto, currently a deputy president of the country is due to be sworn into office on September 13 as fifth President of the country.

He won August 9 polls with his win affirmed by the apex court on September 5, after the main opponent Raila Odinga filed a challenge.


Gay sex is illegal in Kenya and President-elect @WilliamsRuto previously said "we have no room for gays." Ruto tells me "we respect everybody," but adds "this is not a big issue for the people of Kenya" and President Kenyatta was "spot on" to say homosexuality "is not agreeable." pic.twitter.com/qLN3Ss0p2G

— Christiane Amanpour (@amanpour) September 7, 2022