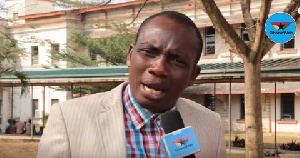 Controversial marriage counselor George Lutterodt has once again made a controversial statement that has got social media users talking.
According to Counselor Lutterodt, men who break the virginity of women need to be properly rewarded for good work done stating that breaking one's virginity is a herculean task and therefore after the act, the men must necessarily be compensated for their effort in opening the way for others to follow.

He said: "If any man breaks your virginity, buy him a gift because he has given you an eye-opening experience."

He, however, went on to say any man who can't make a lady reach her orgasm is going straight to hell for wasting the ladies time.
"Any man who cannot lead his woman to orgasm is a candidate for hell" he said.

Dishing out his advice on sex before marriage he said: "abstinence is not a must but a choice" but however emphasized that sex before marriage is wrong.