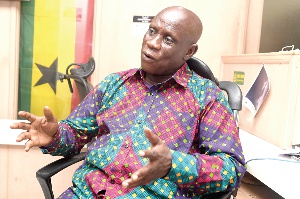 Sharp-witted Ghanaian lawyer, Nana Obiri Boahen says every legal practitioner prefers to live a flamboyant and luxurious lifestyle.
According to him, Ghana produces a lot of lawyers annually but most of them prefer to work in areas where they will earn more money, especially in the national capital, Accra, and a few of some notable regional capitals.

"Any young lawyer will prefer to work in the capital where they can earn more and live a good life. They will prefer to work in Kumasi, Accra, Tema, and Takoradi," he shared.

The lawyer with over 30 years of experience based in Sunyani revealed that he has chambers in Accra, Kumasi and Sunyani. "Looking at the nature of cases and money I make from cases in Kumasi and Accra, Sunyani is a lightweight. I am not discouraging anybody but I am simply being frank."

In an interview on Happy98.9FM's Epa Hoa Daben political talk show hosted by Don Kwabena Prah on why there are fewer lawyers in some parts of the country, Obiri Boahen noted there are more opportunities in the regional capitals he mentioned than the rest of the country. "In Accra and Kumasi, even the clients of these lawyers help them acquire property and live a good life."

He added that in some cases the ordinary Ghanaian and businesses are reasons why lawyers move to Accra, Kumasi, and Takoradi. "Sometimes these companies operating in a particular community will go and get lawyers from outside that region. A bank in Sunyani will rather go for a lawyer in Accra to deal with their cases, ignoring a local lawyer."
He revealed between 70 to 80 percent of lawyers in the country are concentrated in Accra, Kumasi and Tema "and the potential of them getting in contact with resourceful and opulent clients exist in these places."

"I've tasted the success in Kumasi and Accra and I know the city and that is the painful truth. Even investors will come down and want to engage the services of a lawyer in Accra and not one in Sunyani," he stated.

Background

The Upper East Regional Minister has lamented the low number of legal professionals in the five regions of the north.

According to Stephen Yakubu, only 39 lawyers are currently practicing in these areas of the country.
He made the revelation at the 2021 Ghana Bar Conference underway in Bolgatanga in the Upper West Region.

Addressing the gathering on Monday, September 13, Mr. Yakubu further explained that the number is woefully inadequate in serving the growing populace.

This figure, he further explained, is even lower in the Upper West Region where the Minister superintends.

"It, therefore, comes as very worrying reports that only 14 licensed lawyers are practicing in the region to serve a population of 1.3 million," he said.

He said this situation has the potential to impede the region's ambition to become a tourism hub as they invite private sector participation into the area.