General News Fri, 2 Dec 2016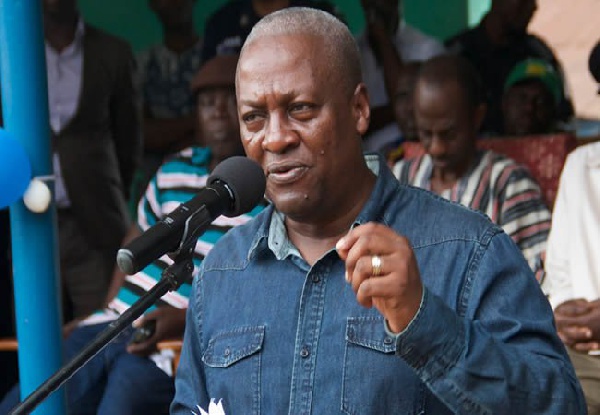 President John Mahama says claims that his government has underperformed in key sectors of the economy are mere propaganda.
He said he has achieved more within the past three and a half years than the eight years of the New Patriotic Party (NPP).

He wondered why in the face of the road projects, small town water systems, electrification projects, and universities, people would be peddling falsehood about his government.

"Transformation and development are taking place," he said, adding those claiming he has done little with the "huge" resources at his disposal are doing that for political advantage.

The President has been criticised by his political opponents for his management of the nations economy. They say he has achieve less considering government has had more resources than any regime in the history of Ghana.

But President Mahama said he has delivered in the key sectors of the economy in his first term than the eight years of the NPP.

He dared the NPP to make public its achievements over the eight years of former President Kufuor.
"Let them measure up what they did in their term in office against these four years what we have done when we came into office," he said.

The President made these remarks when he cut the sod for commencement of construction works on the phase II of the Ho Airport, Friday.

The ceremony rounds up a week of daily commissioning of projects. The President has commissioned at least 10 projects in five days including the Greater Accra Regional hospital, Kasoa Interchange and a cement factory.

Despite making 'unprecedented investments in social infrastructure', President Mahama's political opponents are unimpressed. The main opposition NPP has said social infrastructure investments must translate into economic growth and job creation.

The NPP Presidential candidate Nana Akufo-Addo has observed that under Mahama, the economy has grown the slowest in 20 years. He has also accused the President of mismanaging national resources.

NPP Vice Presidential Candidate, Dr Mahamudu Bawumia at a public lecture held in September said despite having more resources than any government in the history of Ghana, the President has been wasteful.
He said available data shows Ghana's economy under President Mahama has suffered because of bad policies which he said has caused the collapse of businesses.

Citing the performance of the erstwhile President John Kufuor's government, the former Deputy Governor of Bank of Ghana said without oil, the nation's economy grew from 3.7 percent to 9.1 percent.

"After declining to 4.8% in 2009, real GDP growth increased to 7.7% in 2010 and 14% in 2011 following the onset of oil production. Since 2011 however, real GDP growth has declined steadily and drastically to 3.9% in 2015, basically the growth rate Ghana attained in the year 2000," he said.

"Under the NDC, GDP per capita has recorded a growth of 17% (from $1,266 to a projected $1,481) with oil revenue. Under John Mahama's tenure as president (2012-2016), GDP per capita has declined by 12%."