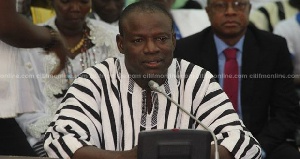 Mr Salifu Saeed, the Northern Regional Minister, has appealed to investors to exploit the untapped potentials in the Northern Region and help enhance business growth in the area.
He said government recognizes the role of the private sector as the engine of growth and this calls for the repositioning of private sector to take full advantage of the enabling environment for private businesses to thrive.

Mr Saeed made the appeal in Tamale on Tuesday at the prelaunch of the 2017 World Tourism Day and Northern Ghana Tourism Investment Promotion Summit held under the theme: "Tourism, a tool for Development".

The prelaunch was to interact with the media and to brief them on the series of activities towards the main launch on September 27, this year.

He said it is important for journalists to use their media platforms to support and market key investment areas of attractions to harness their full potentials to benefit the people of the Region and the country as whole.

He said government was committed to creating jobs for the youth adding that the 'one district, one factory', as well as the 'one village, one dam' policies would succeed if the country's untapped potentials are unearthed.

Dr Ziblim Barri Iddi, the Deputy Minister for Tourism, Arts and Culture, said the country was well endowed with immense natural, cultural, historical and artistic attractions hence the Ministry's commitment to develop and promote both international and domestic tourism.
"Tourism has the potential of creating jobs for local communities where tourist sites are located, to redistribute wealth and income that would promote national unity and cohesion leading to economic development", he said.

Dr Iddi said private sector involvement is crucial in making Ghana a preferred tourist destination saying, "Government is ready to create an enabling environment for investors".

He said the Ministry would liaise with the Ministry of Roads and Highways to earmark funds for the construction of improved roads leading to tourism destinations sites as part of government efforts to boost the sector.

Dr Chrys Anab, Director for Social Development at the Savanna Accelerated Development Authority (SADA), lauded government for creating meaningful policies like the 'One District One factory and the Planting for Food and Jobs.

He said SADA has also created a comprehensive Master Plan for the development of the three northern regions that would highlight key investment opportunities in the tourism, arts and culture sector.

The official launch, which takes place on the 25th to 27TH September is being held in partnership with the Ministry for Special Development Initiatives and SADA and it is aimed at opening opportunities for investment in the tourism sector.