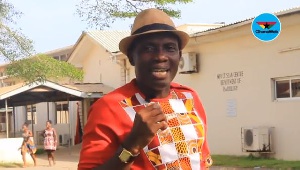 Counselor George Lutterrodt has been appointed Public Relations Officer (PRO) of this year's Homowo Carnival celebrations.
His was designated by the Dzasetse of the Ga Traditional Council, custodians of the Ga Dangme State.

The 'Pilo-Loo Ga Homowo' Carnival 2018, according to a statement from the Dzasetse of the Ga Council, seeks to whip up interest and make the annual celebration attractive, grand and memorable in the coming years.

In his letter of appointment, Counselor Lutterodt's role is to be the mouthpiece of the event which will include the promotion, pursuance and attainment of the event on various platforms.
The first of this annual event will take place on Friday, August 17 to Sunday, August 19, 2018 at the Rawlings Park in Accra.

Below is a copy of Lutterodt's letter of appoinmnet.