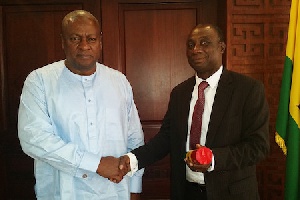 Wed, 21 Oct 2015 Source: atinkafmonline
President John Dramani Mahama has apologised to the media on behalf of the Power Minister, Dr Kwabena Donkor, over his recent verbal attacks on the media.
Dr Donkor lost his temper during an interview with Kumasi-based radio station, Ash FM, on Tuesday, October 13, 2015. This was after the host had asked about President Mahama's recent promise to end dumsor. 

An angry Dr Donkor retorted: "If President Mahama says dumsor will be over very soon, why don't you ask him; am I his spokesman?"
However, President John Dramani Mahama speaking at a business meeting in Kumasi in the Ashanti Region as part of his 'Touching lives Tour', apologised to the media for the uncivil behaviour of his minister.

"The Power Minister did not speak as civilly and as politely as he normally speaks to the media so for those in the media, I apologise to you on his behalf," the President said.
Source: atinkafmonline