General News Mon, 4 Jun 2018
Click to read all about coronavirus →
The Board Chairman of the Ghana Ports and Harbour Authority (GPHA), Peter Mac Manu has given the senior staff workers union 10 days to retract and apologise for its allegations of corruption.
Failing which, he is going to sue the union.

n a letter dated May 30, Mr. Mac Manu's lawyer's described the union's allegations as "highly defamatory and toxic." The Union in a press release accused Mr. Mac Manu of conflict of interest.

Chairman of the Union, Joseph Assib also said he registered some seven companies and awarding contracts to same, without seeking the Board's approval.

The workers also issued an ultimatum to the government to remove Mr. Mac Manu from his post.

But Mr. Mac-Manu lawyers said, "we hold our client's firm instructions to demand an immediate retraction as well as an unqualified apology for the false allegations made against him."
"We have unequivocal instructions to take all necessary legal steps, including but not limited to commencing legal action against you and the unions involved to salvage our client's reputation."

Earlier threat

At a press conference last week, the GPHA Board Chair maintained the allegations were false.

He also threatened to sue the workers union over allegations of misconduct.

"If the Union think they can still spew lies to damage me and by extension to GPHA and government that we are corrupt as many people are saying on their Facebook wall, then I am sorry that we have a long way to go as a country. We will not allow falsehood to run over truths and that is why I am setting this record, and from here the lawyers will follow."
Find below the letter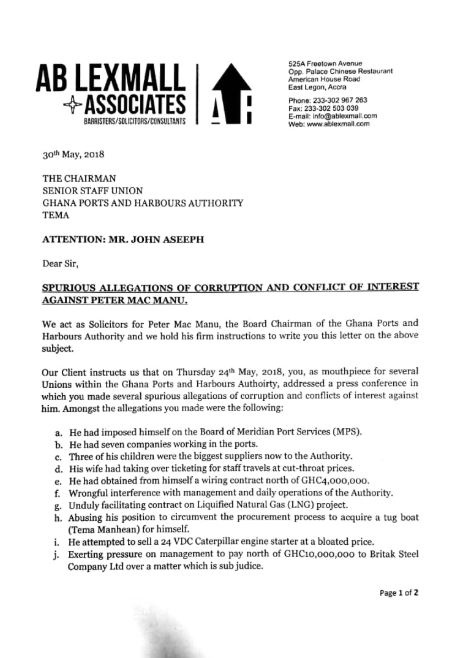 Send your news stories to and via WhatsApp on +233 55 2699 625.