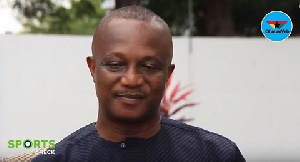 Former Ghana coach Kwasi Appiah has opened up on the supposed role of former president John Mahama in his sacking as Black Stars coach in 2014.
Appiah was relieved of his post as head coach of the Black Stars in 2014 after leading the team to its worst finish at the World Cup.

Appiah's axing came in the wake a disgraceful showing at the World Cup where the nation returned with just a point and a bag of international disgrace.

Detailing the conversation that ensued between him and then GFA boss Kwasi Nyantakyi in his book 'Leaders Don't Have To Yell", Kwasi Appiah suspected that his sacking was politically motivated.

Appiah contends that he was scapegoated by the government and the FA who had come under intense criticism for the happenings in Brazil.

"Kwasi Nyantakyi called me to his office that day and informed me that he had been asked by the President of the nation to relieve me of my duties. When decisions about the national team staff became that heavily-politicized, it was very clear to me that the political machine was flexing its muscles to make me a scapegoat".

Appiah said he was left puzzled by the decision as the Sports Minister whose actions and inactions he believes caused the disgrace was reassigned.
"The Minister for Youth and Sports who should bear the ultimate responsibility for the money issue that was at the heart of the Brazil problem was reassigned to another job in the President's office but I was rather fired".

Appiah further stated that a friend who is his legal representative advised him to pursue the matter in court but he opted against as he was not willing to be drawn into any legal tussle with the state.

"Considering the order for my firing was to have come from the president, that made it a fight I was not interested in".

"My lawyer and secondary school classmate Godfred Graham whom I conferred with regarding the termination of my appointment, was convinced that I had a strong case for further legal action. Even though I agreed with Graham's position, I chose to close that chapter in order to move".