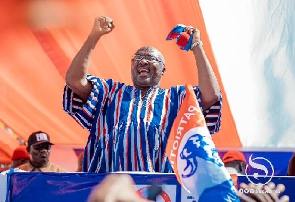 Vice President Mahamudu Bawumia has attacked the 24-hour economy policy proposition put forth by former president John Dramani Mahama.
Bawumia, who was recently elected flagbearer of the New Patriotic Party (NPP) ahead of the 2024 general elections explained that the idea of a 24-hour economy was not new to Ghana and that it appeared Mahama does not understand the concept.

"John Mahama says he has a new idea, what is this new idea, he says he wants a 24-hour economy. He doesn't even understand that promise," Bawumia told a teeming crowd up north on his first visit since his election as flagbearer.

He listed among others; hospitals, power and fuel service providers and some chop bars, that are already operating 24 hours adding that thanks to digitalization, "you can transfer and receive money 24 hours."

"He (Mahama) doesn't understand his own policy, it does not make sense. I want you to note in 2024 we are having a new vision. I will bring new policy and we will transform this country. John Mahama is the past, Dr. Bawumia is the future," Bawumia added to cheers from the crowd.

Mahama buttressed his policy proposal of a 24/7 economy during recent engagement with the Trade Union Congress (TUC).

He has clarified that the policy, a move to combat worsening youth unemployment, will be premised on increased security and availability of cheap and reliable power and that it will not be imposed on businesses, rather tax incentives will be given to those that sign on.
24 hour economy: "@JDMahama doesn't understand his own policy, it doesn't make sense"- Vice-President @MBawumia jabs NDC Flagbearer

According to him, John Mahama is 'past and he [Dr. Bawumia] is the future' and is ready to take Ghana to new heights.#CitiNewsroom pic.twitter.com/hcdimQt6xQ

— CITI FM 97.3 (@Citi973) November 20, 2023
SARA
Ghana's leading digital news platform, GhanaWeb, in conjunction with the Korle-Bu Teaching Hospital, is embarking on an aggressive campaign which is geared towards ensuring that parliament passes comprehensive legislation to guide organ harvesting, organ donation, and organ transplantation in the country.
Watch the latest episode of Everyday People below: