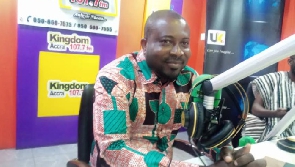 The National Youth Organizer of the New Patriotic Party (NPP), Salam Mustapha has said that former President, John Dramani Mahama's administration as president is the 'wackest' in the history of Ghana.
According to him, comparing how the NPP government has been able to sustain the economy in the midst of the economic turmoil far outweighs former President Mahama's administration and how he handled the economy.

He argues that former President John Mahama during his tenure as president did not face even half of the challenges the incumbent NPP government is contending with currently.

Speaking on the new day on TV3 on August 3, 2023, the National Youth Organizer of the NPP said that the President Akufo-Addo-led government has performed well in the management of the economy amidst the challenges.

"At the end of the day the extraordinary circumstances we have gone through, no government even got through that and virtually even collapsed. The John Dramani Mahama administration is about the wackest we have seen in the history of this country meanwhile, they have not gone through the heaviest of the exogenous factors that this present government has had to contend with. We have tried to keep body and soul together and found a way to ensure that there is fuel in this country, we never had to run or queue to buy fuel, it never happened; this didn't happen by accident.

"I have seen so-called established countries struggle. I was in London when I had to queue to buy fuel.

If you are dealing with a global pandemic where every economy has had to shut down, and now every country is looking inward to build out, whatever you do, how to mobilize revenue would be hit," he said.
His comment comes on the back of the public outcry by some sections of Ghanaians over the economic hardship in the country following GH¢60bn losses by the Bank of Ghana in the 2022 annual report.

BS/WA

Ghana's leading digital news platform, GhanaWeb, in conjunction with the Korle-Bu Teaching Hospital, is embarking on an aggressive campaign which is geared towards ensuring that parliament passes comprehensive legislation to guide organ harvesting, organ donation, and organ transplantation in the country.

Watch the latest episode of The Lowdown on GhanaWeb TV below: