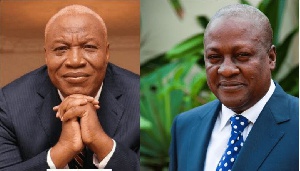 A former flagbearer hopeful of the National Democratic Congress (NDC), Stephen Atubiga, has stated that it took the intervention of God for former President John Dramani Mahama to change his mind about running for office again.
According to him, the former president had made up his mind not to contest in presidential elections after the 2016 "betrayal" and disappointment adding that his family was in full support of his decision.

Speaking in an interview on Good Evening Ghana, Thursday, July 6, 2023, Atubiga added that because the family of Mahama was so sure he would not contest in the 2020 election, one of them took the decision to support the presidential run of Prof Joshua Alabi.

"… a family member of Mahama was sponsoring Alabi because he didn't believe that his brother would come (contest). He (the family member of Mahama) had given him (Alabi) a V8.

"And you remember one of Alabi's campaign managers run back to John with a pick-up," he said.

He said that he was one of the people on the former president's neck for him to change his decision not to contest.
He added that the former president contacted him after some time and told him that he has decided to contest for the presidency again after prayers and reflection.

Atubiga, who was also going to contest in the flagbearership after Mahama had told him he would not be contesting again in 2020, said he decided to step out of the race after the former president changed his mind out of respect.

Watch the interview below:



BAI/FNOQ
You can also watch this episode of People & Places here: