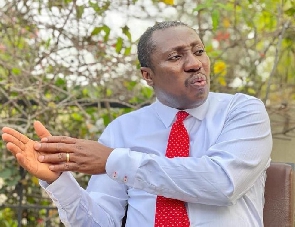 Deputy Majority Leader Alexander Afenyo-Markin has said "although lawmakers are not, strictly speaking, development agents, many MPs have had to dig so deep into their private pockets to provide public infrastructure to benefit under-served communities in their constituencies," thereby rendering some of them impoverished retirees.
"In the process, many MPs have retired as paupers and have to deal with the pain of paying for private loans they contracted in their time in office to provide for the needs of their constituents," he indicated.

The Effutu MP made the observation at this year's GIMPA Law Conference on Wednesday, 15 March 2023.

At the conference, Mr Afenyo-Markin also proposed a reduction of the 275-seat legislature to 200.

In his view, that single move will lessen pressure on the state kitty.

"I must say that one critical thing to look at is to put an upper limit on the number of MPs that we must elect each year," he suggested, complaining: "It is unpalatable that a small country like Ghana, with its many financial problems, has 275 MPs."
"In contrast with all its financial muscle, Australia has 151 and 76 senators," he compared, insisting: "We need a change in the law to stop the unnecessary expansion in the number of seats in our parliament."

"We must reduce the number of seats in our parliament from 275 to 200," Mr Afenyo-Markin underscored.

"I hold the view that Ghana needs an upper chamber; it should be known as the House of Elders, whose election shall remain non-partisan and whose primary role shall be to moderate the current parliamentary excesses and extreme partisanship," he proposed.

"Thus, the Council of State should be converted into the Upper Chamber of Parliament," he added, caveating: "I am not suggesting that the current Council of State is not helpful."