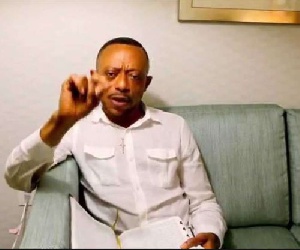 Founder and leader of Glorious Word Ministry International, Prophet Owusu Bempah, has counseled Madam Charlotte Osei, the Electoral Commissioner to be transparent in the impending elections or face the wrath of God.
According to him, God is showing more presence in this year's election and will not supervise thievery, hence his warning to anyone who is likely to prevent the truth, including the commissioner.

"Listen to me madam, let everything be transparent, don't let anyone push you to do anything which is not the truth because God will deal with you", Prophet Bempah told a news conference on Sunday.

The man of God again revealed that some people have made an enchantment against her to declare the results other than the truth, but he is praying against it for her.

He noted that Madam Charlotte Osei has declared to say the truth as it is but warned further that it should not be against the majority's interest, since that will breed chaos.
Prophet Owusu Bempah further revealed that there are some wicked people who are working hard spiritually to see Ghana at war and devastated after the December 7th polls.

"Therefore they are making sacrifices with cows and importing guns into the country to aid their projections", he stated.

He indicated that God has moved in to stop their deeds but urged Christians to pray fervently to stop further plans of those people.

He thence warned those behind the 'evil' plans to desist from further plans, or risk losing their lives including that of their entire family.