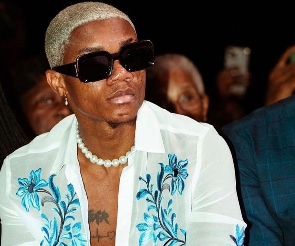 Dennis Nana Dwamena, alias KiDi, has revealed what led him to learning how to create music.
"One of the reasons why I actually learnt how to produce [music] was the fact that Lynx at that time had signed Kuami Eugene and Kuami Eugene came fully prepared – he was a producer, he was a writer, so he could work quickly," he explained.

Due to this advantage, KiDi said, "every time Kuami Eugene [had] a new song he [had] made," meanwhile, he, on the other hand, had "to wait for Richie".

"If Richie [was] not free... I [could not] make music," he bemoaned, adding that he, thus, told himself "that needs to change".

He wanted the artistic freedom to "bring to life the ideas in my head".

He promptly told Richie Mensah, Founder and CEO of Lynx Entertainment, "you need to teach me how to produce".

According to KiDi, once "Richie started teaching me, I'd practice, practice, practice," regardless of his primary job.
"I used to have a job – 9 to 5 at the National Service Secretariat – so after work, I would just loosen my tie like Clark Kent, go into the studio, fold my sleeves and then be playing things, you know, experimenting, doing all kinds of things," the 2022 Vodafone Ghana Music Awards (VGMAs) Aritiste of the Year narrated.

He revealed that it was during this period in his life that he "birthed" his 2017 hit Say You Love Me.

Seeing how the public received the song, KiDi said, "it gingered me more," leading to his follow-up song Odo which established him as a widely known music star. It also received a remix from Davido and Mayorkun.

2018's Adiepena, released after Odo, was also self-produced under the influence of his new found skill and confidence - all these songs appeared on his award winning 2019 debut album, Sugar.

"I started building my confidence in production because I released that as an artiste - it's not by force but – if you can produce, it kind of influences your music and directs your sound because you know the ideas in your head, you get me?"

The hit record producer and singer-songwriter spoke to Joseph Amo Nti on the Sincerely Accra podcast, stressing this was the first time he was publicly speaking about these events.
Watch how KiDi produced the 2021 hit Spiritual, a collaboration with label mate Kuami Eugene and Nigeria's Patoranking, below:

Lynx Entertainment signed KiDi a year after he won the TV reality show MTN Hitmaker (Season 4) in 2015.

In January 2021, Lynx announced signing a partnership deal with Made In East New York (ENY) and EMPIRE to distribute and market KiDi's music.