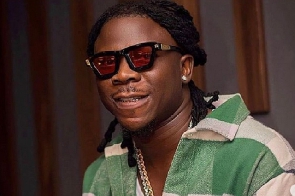 According to music artiste and businessman Stonebwoy, nicknamed 1Gad, his upcoming album will have about 18 songs and will feature big names such as Jamaica's Shaggy and Africa's Angelique Kidjo.
Born Livingstone Etse Satekla, the Reggae/Dancehall and Afrobeats artiste is currently on a promotional tour in the United States of America (USA).

"There are some heavy names on there.

"I don't even know if I can even release it right now but I could drop it and I am going to drop it over here [in America],"

He revealed he has Reggae superstar Shaggy on the long play (LP).

"Imagine Shaggy and Stonebwoy; imagine Stonebwoy and Angelique Kidjo; imagine Stonebwoy and Dexta Daps," he enumerated.
He highlighted that the Dexta Daps collaboration will be "for the ladies."

The album, Stonebwoy's fifth, will not only have commercially successful or mainstream acts.

1Gad explained that he has, for instance, "niche market female artistes on there," because he believes in the "product" that will result from their collaboration in view of their talent.

He desires something "organic," he said, and not forced.

"We have some beautiful stuff [on] there," he touted. "Rest assured."
The multiple award-winning Ghanaian act mentioned that the project will showcase some Amapiano and Reggae sounds.

"We have Amapiano on there," he said. "Amapiano is actually the most popular style of music out of South Africa right now which is also weaving through the world."

"We're merging it with the Afrobeats proper," the father of two noted. "I put [the] Dancehall flavour and my style over it as well."

In fact, the album features "one of the biggest artistes and DJs from South Africa [called] Maporisa," Stonebwoy further revealed, adding that his fifth is "like an 18-track album."

"You're going to get a Reggae song on there," he again said. "You're going to get beautiful songs."
1Gad made these comments in an interview sighted by Class News' Prince Benjamin.


Stonebwoy mentioned some of the names featured on album 5. Chale the album will be fire ???? pic.twitter.com/zHGql4mGuH

— Bhadhas nevas (@bhadhah) February 4, 2023
Recently, the singer-songwriter and 'Nominate' hitmaker was seen in the company of American star Jordin Sparks in a recording studio.
He also stole the headlines after his 65th Grammy appearance, having gone on a networking spree.
On March 11, 2023, Stonebwoy tweeted with visual evidence that he and his partners Def Jam Recordings had had a full listen to the upcoming fifth studio album.
Had an exclusive playback session with my partners @defjam and the entire label in New York! Are you ready for the title of ALBUM 5? ⏳ pic.twitter.com/QJpAUQ70kL

— 1GAD (@stonebwoy) March 11, 2023