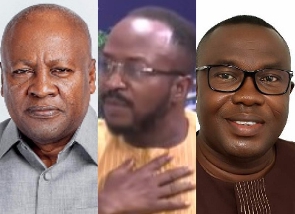 A former presidential hopeful of the National Democratic Congress (NDC), Stephen Atubiga, has alleged that a gang in the NDC orchestrated the party's loss in the 2020 presidential elections.
According to him, some leading members of the party were not happy with the rise of the party's candidate, John Dramani Mahama, in the party and did all they could to ensure that he lost the 2020 elections as a punishment.

Speaking in an interview on Good Evening Ghana on Thursday, July 6, 2023, Atubiga added that this cabal ensured that the NDC could not collate its results for the 2020 elections.

"We were in Tamale when I got a call from a reliable guru of the party, who said … I want you to tell John that the 1.7 million that was taken from him to build a collation centre, the money wasn't put to use. The system was bad; it was collapsing every day.

"It (the system) cannot collate your results… he (the NDC guru) told me that they had put the system in such a way that they would not collate the results; they would let him (Mahama) lose as punishment," he said.

He added that everything was going wrong in the days before the 2020 election, including Mahama's campaign manager, Prof. Joshua Alabi, who was supposed to be at his office ensuring that things were running smoothly, was following the former president everywhere he went.
"I went to where John was staying in Tamale, and I want to ask Calistus; 'How come Alabi is still with you people 10 days to the election? I have never seen a campaign manager with the candidate 10 days to the election."

He added that he told Mahama that there was no way he was going to win the 2020 election if nothing was done, and he decided to take the cabal on.

"From the party chairman, then with his cabal. Because how can you put Rojo, whom you sacked as a former deputy, he never had a job and was very hungry, and you tell him to go and count your money (collate results)," he said.

Watch the interview below:


BAI/OGB

You can also watch this episode of People & Places here: