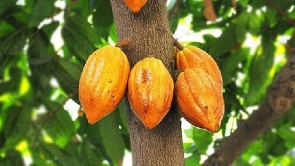 The Deputy Minister for Sanitation and Water Resource, Amidu Chinnia has blamed the National Democratic Congress (NDC) for inciting cocoa farmers against the government over the new cocoa price.
President Akufo-Addo has officially announced a significant increase in the farm gate price of cocoa beans, raising it from GHC 800 to GHC 1308 per bag for the upcoming cocoa season.

But the Minority leader in Parliament, Cassiel Ato Forson has called on the Chief Executive Officer for COCOBOD, Joseph Boahen Aidoo to resign over decline in production under his watch.

Despite Ghana being the second largest producer of cocoa, farmers are still struggling to break even as socio-economic development in various cocoa growing areas remains poor.

Access to fertilizer and other inputs including the ravages of illegal mining are major challenges affecting farmers.
Commenting on the development of the Weekly Review Segment on Morning Starr, the deputy minister however stated that the majority of cocoa farmers are happy with the announcement of a new price by President Akufo-Addo.

"There are a lot of cocoa farmers who are excited about the price. When the President announced the price, were there not cocoa farmers there?" Mr. Chinnia asked.

The deputy minister said the complaint from Concerned Cocoa Farmers Association cannot be taken as the larger view from cocoa farmers adding it is a small group within the set up.

"The main cocoa farmers association has applauded the new price, but the NDC is inciting people because they want to find a way the farmers can make losses with the new price," he added.