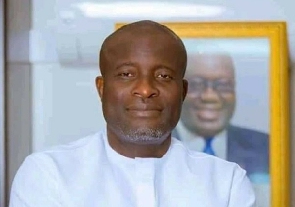 The Managing Director of the Volta Aluminium Company (VALCO), Daniel Nii Kwartei Titus Glover, has dismissed demands by the opposition National Democratic Congress (NDC) for accountability on the government's flagship Planting for Food and Jobs (PFJ) programme saying the call is a joke.
In an interview with journalists in Tema, Titus Glover, who is also a former Deputy Minister of Transport said the demand proves that the NDC either is intellectually lazy or is up to some mischief.

"It is surprising that these people will be asking for accountability when the government has been accounting for the PFJ programme every year," Titus Glover said, before asking rhetorically, "where were they when President Akufo-Addo and the Finance Minister were given accounts during the presentation of the budget or the state of the nation address?"

The VALCO MD's sarcasm comes in the wake of the opposition National Democratic Congress (NDC), holding a press conference to demand that government accounts for the implementation of PFJ phase 1, which ran from 2017 to 2022.

In reaction to the government's announcement that it is increasing the budget for PFJ phase 2 from Ghc614million to Ghc660 million, the NDC, through its Minority caucus in parliament held a press conference accusing the government of using the PFJ as a conduit to loot state funds and then demanded that the government account for PFJ phase 1.

"Whichever way you look at the demand, it sounds ridiculous, especially so when it is coming from MPs who have access to all of Parliament's Hansard on any day," Daniel Nii Kwartei Titus-Glover, who is admired by Npp executives nationwide, said.
He also pointed out that if even it were the case that the answers that the MPs are looking for are not in the Hansard, nothing stops them from writing officially to the Ministry of food and Agriculture for the relevant data.

"To bypass all of these official avenues and go and sit at a press conference and cast insinuations at government and demand for accountability is nothing short of either intellectual laziness, because you do not like reading, or downright mischief," Titus Glover said.

The former MP for Tema East, who has helped the chiefs and people of Tema in diverse ways, called on the public to disregard the "antics" of the Minority and continue to back the Akufo-Addo's government.

According to him, as a result of the PFJ, Ghana cut down the importation of rice and started exporting some food stuff, especially maize.

"As far back as 2019, just two years into the PFJ, Ghana produced some 150,000 tonnes of food under the programme," Titus-Glover said.
Meanwhile, President Akufo-Addo has said that the expansion to the PFJ will help create thousands of jobs in the agriculture value chain."The impact of the Programme is expected to be in the area of job creation, with some 1.2 million farmers to be enrolled in the first year. In the next four years, the Programme is destined to record an annual average of 210,000 new farm-related jobs."This will exclude other jobs along the agricultural value chains estimated at an annual average of 420,000 over the same period," President Akufo-Addo assured.

Click here to start the nomination process for the 2023 GhanaWeb Excellence Awards

Ghana's leading digital news platform, GhanaWeb, in conjunction with the Korle-Bu Teaching Hospital, is embarking on an aggressive campaign which is geared towards ensuring that parliament passes comprehensive legislation to guide organ harvesting, organ donation, and organ transplantation in the country.

Watch Mintah Akandoh's call for legislation on organ transplantation on The Lowdown:




Watch the launch of the 2023 GhanaWeb Excellence Awards on GhanaWeb TV below:





Share your news stories and ideas with GhanaWeb


To advertise with GhanaWeb