General News Wed, 31 Oct 2018
The National Media Commission (NMC), has issued 12 rules to guide all religious broadcasts on television, radio and social media.
The rules, among other instructions, prohibits religious groups from broadcasting materials that cause fear and panic among the citizenry.
The NMC in the document insisted that all religious broadcasts must appreciate the multi-cultural and diversity of religions within society, and must protect children and vulnerable persons from exploitation.
"The guidelines aim at strengthening the peaceful co-existence of all religious faiths," it added.
The NMC in the document also indicated that rules were necessary to ensure sanity within the media space as some religious broadcasters were infringing on the rights of certain groups of people through their broadcasts.
Among the rules, the NMC said, "Religious broadcasts should not involve any abuse, exploitation, intimidation, and manipulation of people especially the vulnerable; and should reflect respect for fundamental human dignity."
It also said, "Religious broadcasts that contain manifestations within the healing, deliverance and prophetic ministry should be done with discretion, circumspection and respect for human dignity. This should be especially so in the case of children."
Also, "Religious broadcasts should not be used for promotion of extremism, religious violence and recruitment of people into religious militancy….Public proclamations of directive prophesies or pronouncements that have the potential to cause fear and panic in people and threaten stability and social cohesion should be avoided," the NMC added.
Read the other rules below: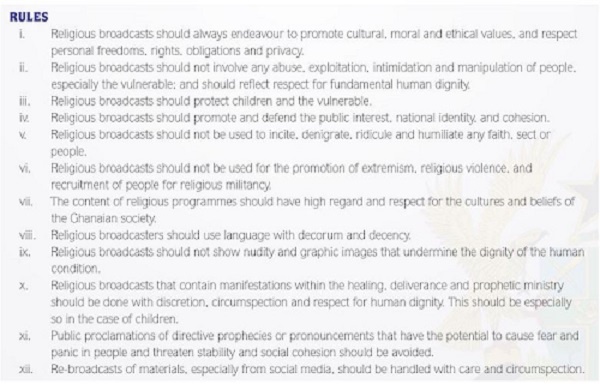 The ban comes at a time when there have been complaints about what some describe as harmful messages by some television and radio preachers.
In one incident, popular television preacher Bishop Obinim was arrested and detained for his maltreatment of some teenagers in his church on live television.
Media companies and the NMC have also been criticized for providing the platform for what some consider to be ignorant and extreme messages that exploit vulnerable and desperate persons in society.
The backlash compelled the Christian Council of Ghana to caution preachers against harmful practices.