General News Thu, 6 Dec 2018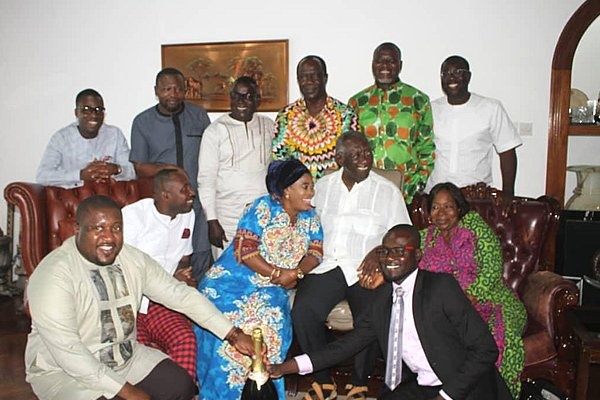 The National Executives of the governing New Patriotic Party (NPP), on December 4, paid a courtesy call on former President John Agyekum Kufuor at his residence, ahead of his 80th birthday.
The former President will on Saturday, December 8, turn 80, a milestone expected to be marked with grandeur.

The executives, led by the NPP General Secretary, John Boadu, said they could not wait to honour him on Saturday for his inestimable contributions to the party's fortunes and to the cause of Ghana at large.

The executives also presented a special gift to the revered statesman.

The former president expressed gratitude at the gesture and was confident that one of his biggest wishes in life, for the NPP to remain in government for several decades, will be realised.
According to the "Gentle Giant", it is only an NPP government that has the wherewithal to take this country to the land of prosperity.

He called on Ghanaians to support the Nana Addo-Bawumia government in this pursuit.

The party executives that made it to the former president's residence on Tuesday included John Boadu (General Secretary), Rita Asobayire Talata (National First Vice Chairperson), Sammi Awuku (National Organizer), Abankwa Yeboah (National Treasurer), Michael Omari Wadie (National 3rd Vice Chairman), Nana Boakye (National Youth Organizer), Nii Laryea Squire (Deputy General Secretary).

Others were, Abdul Aziz Futah (National Nasara Coordinator), Collins Nuamah (Director of Finance and Administration) and some staffers at the party headquarters.