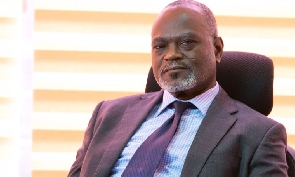 A renowned economist and businessman, Dr. Kofi Amoah, has accused the Nana Addo Dankwa Akufo Addo government of institutionalizing corruption in Ghana.
In a series of tweets shared on Saturday, January 21, 2023, Dr Amoah added that the New Patriotic Party (NPP) government has also weakened Ghana's democratic values.

He added the combination of these factors is the cause of the economic meltdown in the country and the hardships Ghanaians are going through.

"The institutionalization of corruption; the weakening of democratic norms; the weaponization of fear - these are recent creations of the NPP govt that've combined to weaken Ghana's economy, its social fabric and dimmed her future prospects," parts of the tweets read.

The renowned economic also said that Ghana is struggling with its developmental process because of the lack of proper national ideologies and policy directions.

"Ghana has failed to adopt the proper ideologies, strategies and policy directions that could be fit-for-purpose, considering the country's present situation within the existing global political, trade and economic architecture," he said.

He called on the media to set the agenda for the next elections and ensure that the 2024 general elections are based on issues that will affect the livelihood of ordinary Ghanaians.
View Dr Amoah's tweets below:


✔️The institutionalization of corruption

✔️The weakening of democratic norms

✔️The weaponization of fear

These are recent creations of the NPP govt that've combined to weaken Ghana's economy, its social fabric n dimmed her future prospects

Issues for the next campaign, for sure

— CitizenKofi (@amoah_citizen) January 21, 2023
Ghana has failed to adopt the proper ideologies,strategies n policy directions that could be fit-for-purpose,considering the country's present situation within the existing global political,trade n economic architecture

Respectfully,lets drop our bridge to nowhere dance

I plead

— CitizenKofi (@amoah_citizen) January 21, 2023
IB/KPE